By Scott Albin, JazzTimes
May 14, 2013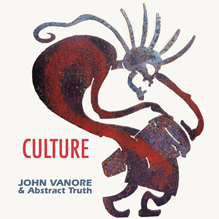 John Vanore & Abstract Truth is a big band for people who dislike big bands. Vanore's emphasis is on the individual soloist and small group settings within the larger 12-piece ensemble, resulting in an uncluttered sound and orchestrations that have great impact and meaning since they are not overdone. Vanore is a trumpeter who studied with Oliver Nelson and Dennis Sandole and played with Woody Herman before forming Abstract Truth in the '80's. The group's first two albums appeared in 1990 (Blue Route) and 1991 (Curiosity), and, after a long hiatus, a new incarnation of the band produced Contagious Words in 2011 and now Culture. As a composer, Vanore is interested in "storytelling" and thematic development, and his tunes and arrangements indeed inspire like-minded improvisations. The centerpiece on this CD is Vanore's memorable Easter Island Suite in three movements, the first of which is actually a reissue from the Blue Route release. Abstract Truth's unique sound stems partly from its instrumentation as well, which includes five trumpets, two trombones, a French horn, and just two saxophonists.
Craig Thomas creates a fresh and riveting bass pattern for an original treatment of Wayne Shorter's "Footprints." Bob Howell's tenor solo undulates vigorously through the theme's harmonies, and Vanore's trumpet improv takes a similar path. Finally, Vanore and drummer Dan Monaghan go at it alone until the full band takes on the reprise in colorful, textured fashion, matching the pinpoint quality of its interjections during the solos. "Parallax" is from the pen of trumpeter and band member Kevin Rodgers. The ensemble's voicings of the theme are reflective and striking, as is the exploration by Howell on tenor. Vanore's solo is edgier and more outgoing, while guitarist Greg Kettinger opts for Howell's more mellow approach, although the band's outbursts elevate his musings. The enjoyable reprise is capped by Howell's melancholy coda, with bassist Thomas providing sparse and thoughtful accompaniment.
George Barnett's French horn prelude to "Discovery," movement one of the Easter Island Suite, is insinuating and mysterious, in tandem with Thomas' arco bass. A bass ostinato then frames the spirited main theme, which is given diverse orhestrations. Mike Falcone's ravishing and uninhibited extended tenor solo is made all the more stark early on by just having arco bass beneath it, until piano and drums begin to offer proactive support, leading up to the entire congregation's forceful, billowing, and ultimately dramatic summation. Bassist Thomas is again a key component of movement two, "Gods & Devils," with his ostinato backing the band's presentation of the staccato theme, a free-form escalation, and some heated riffs. Howell's compelling tenor foray travels territory ranging from post bop to avant garde. Vanore's mood-shifting statement is largely enhanced by just the adroit Thomas, prior to the band's ebullient repetition of a motif taken from the theme that ends this stirring track. For movement three, "The Secret Caves," Brain Landrus' bass clarinet and Kettinger's guitar exchange a motif, followed by the brass and saxes doing the same, until the melody is unfurled rousingly by the band at large. Michael Mee's spellbinding alto flute solo gives way to a contrapuntal, spontaneous mixture of Thomas' bass, Howell's soprano, and Monaghan's drums that builds up to and then descends from an exultant climax. The Abstract Truth, with Thomas' outstanding bass work again noteworthy, runs through a swirling reprise with flair and commitment.
Mee's piercing clarion calls on alto are interspersed amid the assemblage's legato lines to open the evocative "Whispers of Spring." Ron Thomas' contemplative piano spot is succeeded by Mee's intensely yearning, deeply moving creation. Bassist Thomas also contributes an absorbing solo before the brass section's vivid unison passage and Mee's equally effective recap. "The Arsenal" is introduced by Barry McCommon's bass trombone, setting the stage for the band's variegated delivery of the uplifting theme. Joe Cataldo's trumpet improvisation is brassy and ingratiating, and is followed by the boppishly intricate alto of Mee. A rich orchestral segment with trumpets up front precedes lucid, captivating solos by bassist Thomas and trumpeter Sean McAnally, while the all-men-on-deck finale finds Monaghan urgently releasing his inhibitions. "Mompou" was adapted by Vanore from "Canción #5," by the Catalan Spanish composer and pianist Federico Mompou. This miniature end piece serves as "an homage to the great influence of Spanish music on jazz." Vanore's arrangement brings to mind Gil Evans' brooding expansiveness, with Howell's biting tenor exhortations supplying a provocative divergence to this unfortunately brief selection.