By Ric Bang, jazzscan.com
April 22, 2011
original link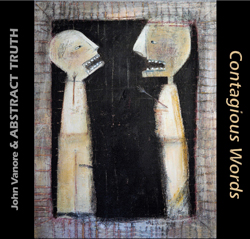 Abstract Truth is a group headed by John Vanore who, in the 1970s, played trumpet and flugelhorn in one of Woody Herman's Herds. I reviewed this group's first release (Curiosity) several years ago, and was impressed by Vanore's skill as both an instrumentalist and composer.
His "little big band" is unique: The brass section is huge — six trumpets/flugelhorns, two trombones and a French horn — while the reed "section" consists of just two men who play alto, tenor and soprano saxes, clarinets and flutes. They're all joined by a rhythm section of bass, drums and guitar, rather than a piano. Three guest artists are utilized on several tracks: a pianist, another flautist and a bass trombone.
The result is a rich, and swinging "chorale," with major emphasis on the brass section.
Vanore composed most of the music and arranged all but one of the tunes: the wonderful old standard "You Go to My Head," handled instead by trumpeter Kevin Rodgers.